Zonophone
LABEL HISTORY
The British Zonophone label (since 1903 owned by The Gramophone Company / His Master's Voice) was the first major European label to launch a comprehensive African catalogue. In 1912 Zonophone introduced two export lines, the general overseas 3000 series and the 4000 series for the South African market. The 4000 series also included discs in African languages starting with the reissued "Gramophone" recordings made by a group of Swazi chiefs on a visit to London in 1907. In March-April 1912 Zonophone sent an engineer to South Africa who made recordings of the Salvation Army and St. Cyprian's Choir in Johannesburg, Abonwabisi Party (Don't Worry Entertainers), George Goch Mine Natives, Selby-Msimang, J. B. Masole, P. Mbonambi and J. Vilakazi. The African recordings were advertised as "Zonophone Native Records" (see illustration below).
J.J. Ransome-Kuti
The first African releases in the general overseas 3000 series came in 1922 with recordings in Yoruba by the Reverend Canon Josiah Jesse Ransome-Kuti (1855-1930), Fela Kuti's grandfather, who was on a visit to England. The self-composed hymns of J.J. Ransome-Kuti were released as Zonophone 3391-3412. The recordings in Yoruba were supplemented by the re-release of recordings by C.A.W. Pratt (alias Shotayo Adeyemi) that had previously been released by His Master's Voice. Further recordings were made in London with other African artists between 1923 and 1930 and added to the 3000 as well as the 4000 series.
E.Z. series
In 1927 Zonophone launched the E.Z. series exclusively for African recordings. It ran from E.Z. 1 to E.Z. 574 and included recordings made up to 1930 (plus 2 further releases with speeches added in the mid-1930s). The E.Z. series comprised recordings in several West African languages including Abonnema, Anecho, Appolonian, Ashanti, Beni, Creole, Efik, "Coast English", Ewe, Fanti, Ga, Hausa, Ibo, Jerkri, Jolof, Kroo, Mendi, Sobo, Temni, Twi, Vai and Yoruba, in addition to recordings in Duala, "Congo", Swahili and Somali. The recordings were made with Africans visiting or living in England at the time. Many had religious topics and would not today be considered popular music
The Kumasi Trio
One recording session was deemed so special it was released exclusively in a new E.Z. 1000 series. In 1928 Zonophone's retail representative in the Gold Coast, the Tarquah Trading Company, subsidized the first trip for West African artists to go to London to be recorded, the famous session organized for The Kumasi Trio led by Kwame Asare, called "Sam", "Jacob Sam" or Kwamin (when recording in Twi), which took place in June 1928.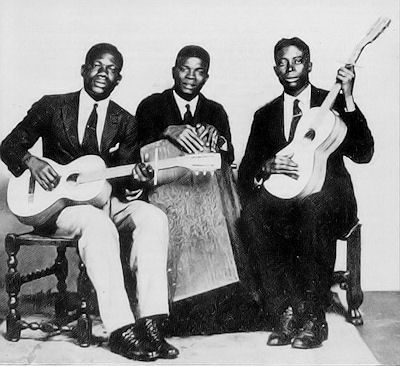 The Kumasi Trio – London 1928
L to R: H. E. Biney, Kwah Kantah & Jacob Sam (Kwame Asare)
Yaa Amponsah
The recording by The Kumasi Trio of "Amponsah Part 1 & 2" in Fanti, released as Zonophone E.Z. 1001, is widely cited as "the earliest version of the archetypical Ghanaian highlife song 'Yaa Amponsah' [recorded] in 1928 at Kingsway Hall in London". Cf. page 162 in John Collins: Popular Dance Music and the Media. In: Kimani Njogu & John Middleton (eds.): Media and Identity in Africa. Edinburgh University Press, 2009.
The version recorded by The Kumasi Trio was made on the 8th June 1928. As the reconstructed Zonophone catalogue indicates two other versions of the song were recorded earlier that same year. On 30th January 1928 Daniel H. Acquaah recorded "Yamponsa" in Fanti (Song with chorus and tambourine) released as Zonophone E.Z. 74 and on 14th March 1928 Edmund Tagoe and Frank Essien recorded "Ya Ponsa" in Ga (Duet with piano accompaniment) released as Zonophone E.Z. 179. A fourth version of "Yabonsã" in Appolonian [Nzema] (Song with chorus and drum) was recorded by Douglas Papafio on 4th April 1929 and released as Zonophone E.Z. 416.
Caluza's Double Quartet
Another memorable London recording session took place in September-October 1930 when Ruben T. Caluza's Double Quartet arrived from South Africa and recorded 150 songs. The first releases from this session appeared as Zonophone 4276-4285, 4298-4319, 4332-4341 & 4350-4359. However, after the merger of the parent Gramophone Company and His Master's Voice into EMI in 1931 and the subsequent rearrangement of the African market, Zonophone's African catalogue was stopped and deemed obsolete. The only exception was the recordings with Caluza's Double Quartet which were re-released on His Master's Voice in the G.U. series for the South African market.
Re-releases
20 songs from Caluza's Double Quartet's 1930 London sessions were re-released by the Heritage label (HTCD 19) in 1992.
The 1922 recordings with J.J. Ransome-Kuti were re-released in 2013 by Bear Family Records (BCD16095). The 44 CD box-set "Black Europe", including two 30 x 30 cm coffee table books each with more than 500 full-colour pages, was produced in 500 copies only.
See also "EMI West African labels – History" for further re-releases of Zonophone's African catalogue including the 1928 session with The Kumasi Trio. LINK
References
John H Cowley: "uBungca (Oxford Bags). Recordings in London of African and West Indian Music in the 1920s and 1930s", Musical Traditions (Rochford, Essex), No. 12, Summer 1994, pp. 13-26.
"Reverend J.J. Ransome-Kuti" in Bear Family Records (BCD16095),Vol. 2, pp.192-197, P2013.
GALLERY

Zonophone's 1912 South African recordings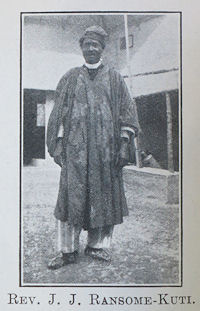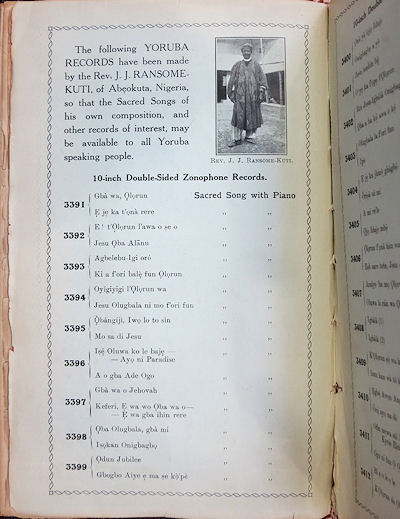 J.J. Ransome-Kuti's 1922 London recordings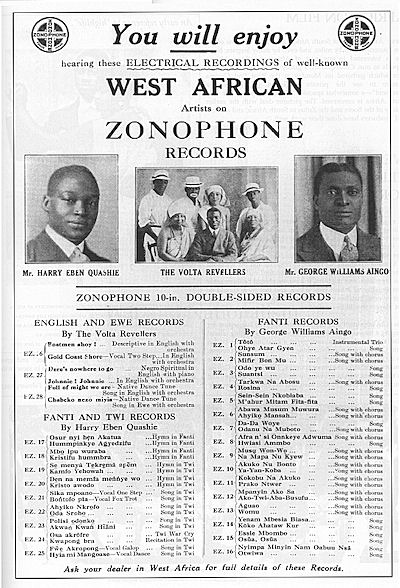 Advertisement in West Africa (London) 7 January 1928
introducing Zonophone's JZ series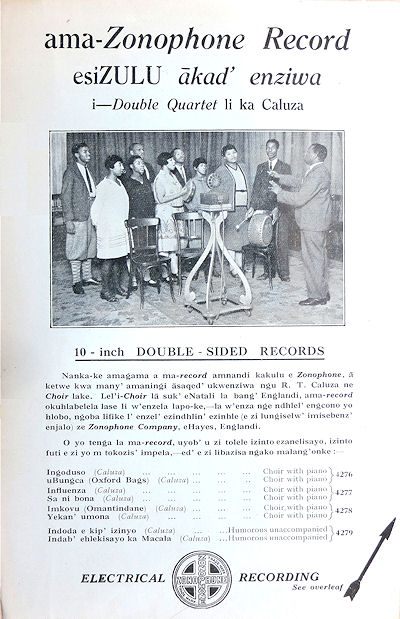 Caluza's Double Quartet's 1930 London recordings
Page created 14/09/2014 © Flemming Harrev – latest update 28/09/2020