His Master's Voice's G.U. series – History & gallery
The Gramophone Company's G.C. series
In 1908 The Gramophone Company released 7 single-sided shellac discs with Swazi chiefs visiting London. With the introduction of the double-sided discs, however, it used its budget label Zonophone for further releases in African languages. In 1912 Zonophone introduced two export lines, the general overseas 3000 series and the 4000 series for the South African market. The 4000 series also included discs in African languages starting with the reissued "Gramophone" recordings of Swazi chiefs. In March-April 1912 Zonophone sent an engineer to South Africa who made recordings of the Salvation Army and St. Cyprian's Choir in Johannesburg, Abonwabisi Party (Don't Worry Entertainers), George Goch Mine Natives, H. Selby-Msimang, J. B. Masole,  P. Mbonambi and J. Vilakazi.
Zonophone's 4000 series
It should then take well into the 1920s for further releases in African languages to be added to Zonophone's 4000 series with recordings of Sol T. Plaatje, James Stuart, Simon Sibiya and John M. Ngwane. The culmination was the London recording sessions that took place in September-October 1930 when Ruben T. Caluza's Double Quartet arrived from South Africa and recorded 150 songs. The first releases from this session appeared as Zonophone 4276-4285, 4298-4319, 4332-4341 & 4350-4359. However, after the merger of the parent Gramophone Company / His Master's Voice into EMI in 1931 and the subsequent rearrangement of the African market, Zonophone's African catalogue was stopped and deemed obsolete. The only exception was the recordings with Caluza's Double Quartet which were re-released on His Master's Voice in the G.U. series.
His Master's Voice's G.U. series
The Zonophone releases by Caluza's Double Quartet were re-released as His Master's Voice G.U. 1-52 in addition to the remaining songs from the London sessions which were released as G.U. 53-75. Further releases were added to the His Master's Voice's G.U. series during the 1930s. These releases were all recorded in South Africa. The series numbers G.U. 76-151 were taken up by recordings in Zulu, G.U. 251-265 by recordings in Sindebele and Secwana, G.U. 301-312 by recordings in Sesotho and G.U. 351-372 by recordings in Xosa. In total 200 discs were released in the G.U. series. It should be noted that not all available series numbers were actually used.
By 1938 EMI introduced a new J.P. series which would serve as His Master's Voice's principal series for the Southern African Market into the 1970s alongside EMI's Columbia label's A.E., G.R. and Y.E. series.
G.U. SERIES GALLERY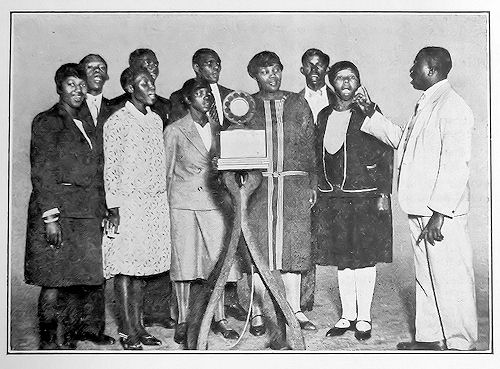 Caluza's Double Quartet's 1930 London recordings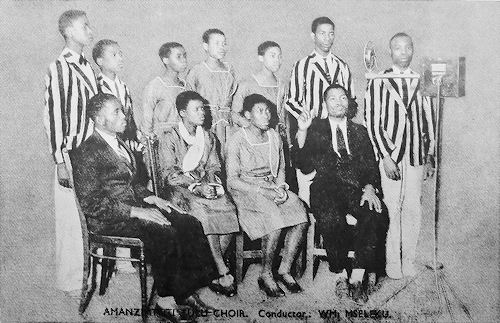 Amanzimtoti Zulu Choir
Mameyigudi & his Dancers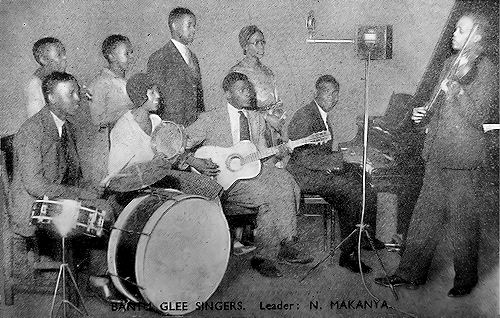 Bantu Glee Singers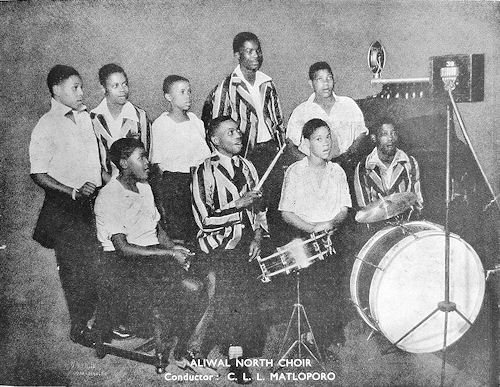 Aliwal North Singers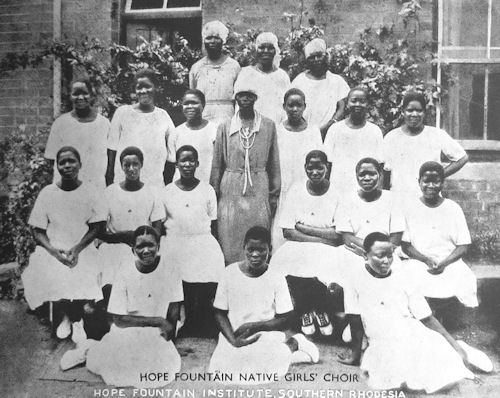 Hope Fountain Native Girls' Choir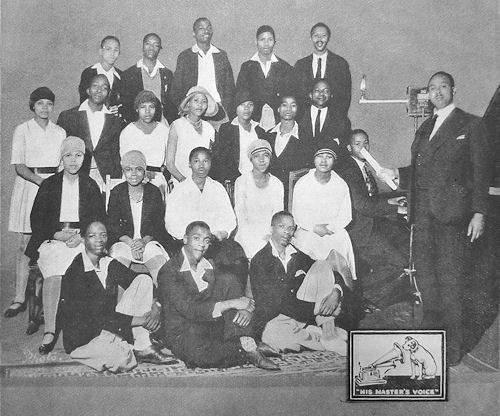 Xabanisa's Xosa Choir
Page created 21/03/2015 © Flemming Harrev
With special thanks to Joanna Hughes and Mushana Mkushi at the EMI Archive Trust, Hayes.