Franco et le T.P. O.K. Jazz
Original releases
1. Loningisa 78 rpm shellac discs
The first recordings after the formation of O.K. Jazz in 1956 were released on 78 rpm shellac discs on the Congolese Loningisa label. The band was made up from Loningisa studio musicians and to begin with their individual names rather than the name of the band was featured on the Loningisa discs, as it had been the practice prior to the formation of O.K. Jazz and the band's first live performance on 6th June 1956. It should take another 7 to 8 months before the name O.K. Jazz eventually appeared in print on a Loningisa shellac disc.
Bana Loningisa
With 3 exceptions all discs released by Loningisa covering recordings from June 1956 to August 1961 (N° 153 to N° 315) were with O.K. Jazz (160 shellac discs and 320 titles).  Another 25 releases (50 titles) from 1953 to 1956 can be attributed to the future members of O.K. Jazz when they recorded in various constellations as Loningisa studio musicians, starting with Franco's recording debut (Loningisa N° 122) in November 1953.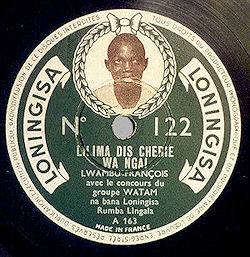 Loningisa re-releases
Initially Loningisa had its shellac discs manufactured at the Sobedi (Société Belge des Disques) factory in Ghent. Shellacs with "Made in France" printed on the labels were presumably manufactured in France to circumvent the tax imposed on imports to France's African colonies. By 1957 Loningisa signed a manufacturing contract with EMI in Great Britain. The EMI pressings had a different Loningisa label design but otherwise used the same catalogue numbers for its pu. series which included re-pressings of some of the best-selling discs from the past as well as new releases. The contract with EMI also included a licencing deal to re-release the catalogue for the West African market in His Master's Voice's LON series. In 1960 EMI in France started to re-release Loningisa recordings by O.K. Jazz on vinyl EPs on the La Voix de Son Maître label. Vinyl and CD compilation albums with O.K. Jazz's Loningisa recordings have since appeared on the Pathé Marconi EMI, African, Disco Stock/Edipop, RetroAfric and Cramworld labels.  In 2016 Planet Ilunga released a limited edition double vinyl album with 32 tracks re-mastered from the original Loningisa shellacs.
| | |
| --- | --- |
| | |
2. Original releases on 45 rpm (45 tours) vinyl discs
The 1960s saw a change in format in favor of the 45 rpm extended play (EP) and single play (SP) vinyl discs. O.K. Jazz's first Congolese vinyl single releases in the early 1960s came on Joseph Kabasele's Surboum African Jazz label in the OK series. It was succeeded by the "200" series on the Congolese CEFA label by now owned by Fonior / Ecodis. Some of the last discs in the CEFA series were re-released on Rodger Izeidi's Tcheza label with identical catalogue numbers and followed by 3 possibly original Tcheza release in 1971.
| | |
| --- | --- |
| | |
However, in 1964 O.K. Jazz left the Belgian owned Fonior / Ecodis company in favor of Pathé in France and set up their own independent labels Boma Bango, Epanza Makita and Editions Populaires in the Congo. The deal with Pathé included a series of EPs with the common title "O.K. Jazz 1964" in addition to a number of 45 rpm singles released in the Pathé G 2000, G 2100 and G 20.000 series. The Pathé G series singles were re-released again by Pathé in the PF 11.500 series along with other tracks recorded throughout the latter part of the 1960s. 10 tracks (5 discs) were recorded by Franco in Paris with Congolese students and released as "Orchestre Franco", not as O.K. Jazz. Nonetheless some of these tracks have since been re-released on compilation albums as O.K. Jazz recordings.
A deal similar to the one made with Pathé was made for a more limited number of tracks released by the Ngoma label which by now had relocated its activities from Congo to France. 61 of the 115 tracks released by Pathé in the 1960s have also been identified as part of the current reconstructed catalogues of the Boma Bango, Epanza Makita and Editions Populaires labels released in the Congo. Similarly 13 of the 24 tracks released by the Ngoma label have been identified as released on O.K. Jazz's Congolese labels. This laves 65 tracks for which a Congolese label not has been identified.
| | |
| --- | --- |
| | |
One track "Pas un pas sans Bata", recorded in late 1966 or early 1967 to promote Bata shoes, was released on a special label and identified by its matrix numbers only (Bata Tropical 11255 and 11256). In 1968 5 new releases appeared on the Likembe label and by 1969 another 14 on the Viclong label, set up by Vicky Longomba, which would also serve him after he had left O.K. Jazz in 1970 and formed his own band Lovy du Zaïre. Another 4 singles (8 tracks) with Vicky & OK Jazz together with 12 other singles (20 tracks) were released in France by Pathé from 1969 to 1975. Of the 28 tracks 10 have been identified with a Congolese label.
The various series with original Congolese releases on 45 rpm vinyl discs roughly covers the years 1961 to 1980 when the format shifted in favour of the 30 cm album for new releases. They labels include:
* Surboum African Jazz in the OK series 1961-1962 – 68 original releases (136 titles) identified
* CEFA in the "200" series 1963-1964 – 62 original releases (124 titles) identified
* Pathé in the EG, G and PF series 1964-1969 – 58 releases (54 titles with no Congolese edition identified)
* Ngoma in the J and DNJ series c.1965-1966 –  12 releases (11 titles with no Congolese edition identified)
* Boma-Bango 1965-1967 – 32 original releases (63titles) identified
* Editions Populaires 1965-1979 – 131 original releases (203 titles) identified
* Epanza Makita 1965-1970 – 52 original releases (103 titles) identified
* Likembe 1968 – 5 original releases (10 titles) identified
* Viclong 1969-1970 14 original releases (28 titles} identified
* Pathé 1969-1975 in the 15.000 series – 16 releases (18 titles with no Congolese edition identified)
* Tcheza 1971 – 3 original releases (6 titles) identified
* Other labels (Bata Tropical, Zebi, Aziza, N'timbo and Masiya) 1966-1983 -19 original releases identified.
* O.K. Jazz releases with no Congolese edition or edition number indicated – 6 original releases identified.
This adds up to 781 titles released on 45 rpm vinyl singles and EPs.
| | |
| --- | --- |
| | |
Editions Populaires
The first run of the Editions Populaires label covers the years 1965-1975. From 1976 a "0" (zero) was then added as the first numeral in the series numbers which started counting again from "001", "002", "003" etc. for the second half of the Editions Populaires releases. The start of the second part of the series also coincided with the introduction of stereo recordings. The second "0" series was continued in Congo into the late 1980s after O.K. Jazz had changed from vinyl 45 rpm singles to albums for new releases. The albums in the V.I.S.A. 1980 series might in fact have served as parallel releases for the international market for 45 rpm singles previously or simultaneously released in Congo.
| | |
| --- | --- |
| | |
Edition Zebi & Edition Nguashi N'timbo
Two artists enjoyed a special relationship with Franco and O.K. Jazz and were allowed to release their own compositions on their personal labels. Mayaula Mayoni on his Edition Zebi (1975-1979) and Nguashi N'timbo, from 1979 to 1981 a singer with O.K. Jazz, on Edition Nguashi N'timbo. The Zebi recordings with Mayaula Mayoni and O.K. Jazz were re-released on a CD album in 1996 "Chérie Bondowe" (SonoDisc CDS 6850). An original vinyl album "Mizele" recorded with members of O.K. Jazz was released in 1990 (Alia Music N° 008). The recordings with Nguashi N'timbo et le T.P. O.K. Jazz  reappeared on 2 vinyl  albums in 1981, "Manguta" released by Shakara Music in Abidjan on the Star label (SHA 020) and "Banganga Ya Moyindo" on Edition Nguashi N'timbo (LP NT 001) and re-released by Musicanova in Brussels (MUS 002). A third album with Nguashi N'timbo and members of O.K. Jazz was released by Editions JNT Music in Paris in 1982 (001).
| | |
| --- | --- |
| | |
Edition Aziza & Edition Masiya
Yet another exception to the releases on O.K. Jazz's own labels was a single recorded with the female singer Abeti in 1978 and released as a vinyl single on her Aziza label. In the early 1980s, while Franco was recording stereo albums in Europe, Lutumba Simaro recorded with another wing of O.K. Jazz in Kinshasa and had it released as singles in mono on the Masiya label. One can only speculate why these recordings never found their way to an album. As the photo above indicates, at least some 7 singles were released on Edition Masiya.
Epanza Makita 65 with Negro Succès




re-released in France

Editions Populaires 35 with Thu-Zahina




only released in Congo
Disographical note on 45 rpm (45 tours) vinyl discs
Tracks originally released on shellac on the Loningisa label 1956-1961 were later re-released on vinyl on the Epanza Makita as well as the Editions Populaires labels. In some cases the same tracks appeared on both labels. One such example is Loningisa N° 200 which was re-released as Epanza Makita EPA 83 as well as Editions Populaires EP 73. Another aspect in re-creating the catalogue of O.K. Jazz is the fact that other bands than O.K. Jazz were also released on the Boma Bango, Epanza Makita as well as the Editions Populaires labels. Some of the recordings with other bands were re-released by Fonior / Decca France and later SonoDisc, others were not and only found a limited circulation in Congo. This could explain the missing information in the various series. But it could also be series numbers never used, or tracks by O.K. Jazz that were never re-released outside Congo or never found their way on a later date to the internet in their original pressings.
Pathé and Ngoma re-releases
Of the various independent labels established by O.K. Jazz the reconstruction of the Epanza Makita label is the most incomplete when it comes to the first 40 or so releases. The start of the label coincides with the release of a number of tracks by O.K. Jazz in 1965 -1966 on the Pathé and Ngoma labels in France which have been difficult or impossible to associate with an original release on a Congolese label. These tracks could very well be the missing tracks in the reconstructed Epanza Makita catalogue.
3. Albums
Since the early 1960s the O.K. Jazz recordings originally released on Congolese 45 rpm vinyl singles have been re-released in France by Pathé, Ngoma and above all Fonior / Decca France. Ngoma closed down in 1971 and by 1979 Pathé had ceased its African releases. When Fonior / Decca France was declared bankrupt in 1980 it left Franco et le T.P. O.K. Jazz without an international distributor.
Franco Luambo Makiadi agreed to have Daniel Cuxac, director of the Disco Stock label in Abidjan, Cote d'Ivoire, release a series of albums on the V.I.S.A. 1980 label. 6 of the 12 albums were with other artists with the common title  Franco présente … .  A parallel  Franco présente …  album series on the label Le Passeport appeared with 2 releases.  The V.I.S.A. 1980 label and the subsequent labels Edipop Production, Choc and African Sun Music marked O.K. Jazz's change in format for new releases from the 45 rpm single play disc to the vinyl album. All previous albums released by Pathé and Fonior / Decca France had been compilations based on previously released 78 rpm shellac discs and 45 rpm vinyl singles and EPs.
During the 1980s albums released with new original recordings also appeared on the Genidia, Michita, Disques Esperance, Rhythm et Musique, Africa Mama and Syllart labels besides Franco's participation as guest artist on a couple of albums. 219 titles have been identified on original album releases including 5 albums released 1990-1995.
After the death of Franco in 1989 le T.P. O.K. Jazz released a number of albums under the leadership of Lutumba Simaro Massiya before the band was formally dissolved in 1993. Over the following years Simaro and former band-members released a further number of albums under the name Bana O.K.
Listing of O.K. Jazz album labels
The discography of Franco et le T.P. O.K. Jazz provides an overview of all albums with new releases – plus their own labels V.I.S.A. 1980, Edipop Production, Choc and African Sun Music which are listed individually including albums with other artists and re-releases.
4. Bibliography
Ewens, Graeme:
Luambo Franco and 30 Years of O.K. Jazz 1956-1986.
London: Off the Record Press, 1986. 64 p.
Ewens, Graeme:
Congo Colossus.
The Life and Legacy of Franco & OK Jazz.
North Walsham, Norfolk: Buku Press, 1994. 320 p.
Kirika, Zéphyrin Njumu Assana:
Lutumba Ndomanueno "Simaro".
Poète, philosophe, guitariste-accompagnateur, auteur-compositeur et génie de la musique congolais moderne.
Saint-Denis: EdiLivre 2013. 86 p.
Lala, Raoul Yema Die:
Franco. Le Grand Maître.
Paris: L'Harmattan, 2013. 162 p.
Mbamba Toko W.:
Autopsie de la chanson de Luambo Makiadi Franco.
Paris: Édition Uhuru/Universal Connection, 1992. 170 p.
Olema, Debhonvapi:
La satire amusée des inégalités socio-économiques dans la chanson populaire urbaine du Zaïre.
Une étude de l'œuvre de Franco (François Luambo) des annees 70 et 80.
Thèse (Ph.D.), Faculte des études supérieures, Université de Montréal, 1998. 628 p.  LINK
Page created 10/11/2012 © Flemming Harrev – latest update 04/05/2017