East African Music
Editor: Douglas Patterson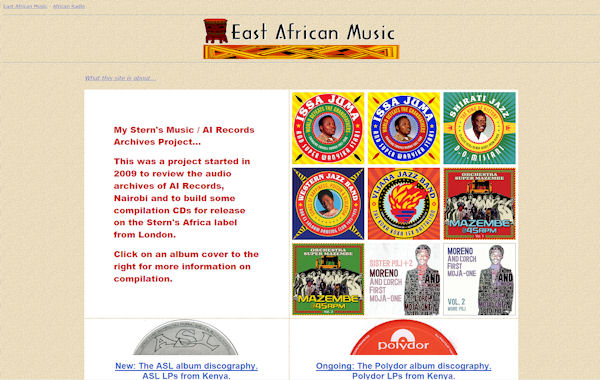 http://www.eastafricanmusic.com/
Discographies of East African labels and series. Articles on artists and the music scene in Kenya and Tanzania.
DISCOGRAPHIES
Labels
ASL albums
Buda Musique – The Zanzibara Series
Polydor albums
Equator Heritage Sounds
Artists
Samba Mapangala
Super Mazembe – singles (East African Music)
Super Mazembe – albums  (East African Music)
ARTICLES
Doug Paterson's East African music projects: Ahadi, Stern's, Rounder, Naxos World, World Music Network, Soundway Records and individual artists.
Kenyan Pop Music
Tanzanian Pop Music
Werner Graebner: Popular Music in Tanzania "Muziki wa Dansi".
PICTURE GALLERY
Congo & DR Congo – SonoDisc – Les Merveilles du Passé (CD 36501-36603)
Page created 25/11/2012 © Flemming Harrev – latest update 21/07/2016