Disques Africambiance
LABEL HISTORY
Disques Africambiance together with Les Disques Samson were the first vinyl labels uniquely dedicated to music from Cameroon. Previously Cameroonian artists had been released on shellac discs by Philips, Fiesta, Nigerphone, Africavox, Pathé, Le Chant du Monde, and the Congolese labels Ngoma and OPIKA. It is very likely a number of the vinyl singles in the Africambiance AA series, released in 1967 and the following years, had been released priviously on shellac discs. In an interview published in Bingo (Paris) in 1974 the assiko artist Jean Bikoko Aladin is quoted for saying, that he signed his first recording contract with Africambiance in 1959, then left the company and signed another contract with Les Disques Samson in 1965. By 1967 he was recording for Africambiance again.
Before the existence of locally based record companies, one the best way to reach a wider audience was via the recordings made by the Cameroonian national radio. Jean Bikoko Aladin made his first recording "Diwanda lem le Jean Lonha" for the radio in 1953. Impressed by Bikoko's guitar playing and the enthusiastic audience response, Samuel Mpoual, recording engineer at Radio Douala, made the first recordings with Jean Bikoko Aladin for the Disques Africambiance label in 1959. The label was a partnership between Samuel Mpoual and businessman Joseph Tamla who had stores in Douala, Yaoundé and Bafoussam. The discs were recorded at the studio at Radio Douala and the master tapes were then sent to a pressing plant in France.
Information for this recreated catalogue includes vinyl releases from 1967 to 1974. The first and only  Africambiance vinyl album Le Cameroun Danse was released in 1967, the same year the AA vinyl singles vent on sale. The tracks on the album were also released later on vinyl singles, i.e. AA 18, AA 20, AA 29, AA 34, AA 44, AA 45, AA 47, AA 48 and AA 51.
The tracks on AA 56 to AA 62 featuring Jean Bikoko et son ensemble fédéral 67 would appear to have been recorded in 1967. But it cannot be taken for granted that all vinyl singles with a number higher than AA 62 were recorded and released in 1967 or later. I.e. AA 76 with Cercul Jazz was most likely recorded in 1965-1966 when the Brazzaville based band played for 6 month at a hotel in the district of Jos in Douala and later stayed another 2 months in Yaoundé.
Reference
Christian Mouelle: Jean Bikoko  guitarist compositeur  A batons rompus.
Bingo (Paris), no. 261, octobre 1974 : 30-32.
Matthew Lavoie: Jean Bikoko Aladin The King of Assiko.
Voice of America website, African Music Treasures, uploaded 16th September 2009. LINK
GALLERY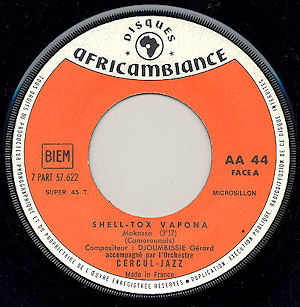 Africambiance AA 44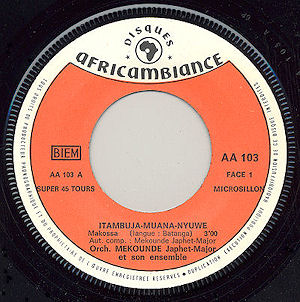 Africambiance AA 103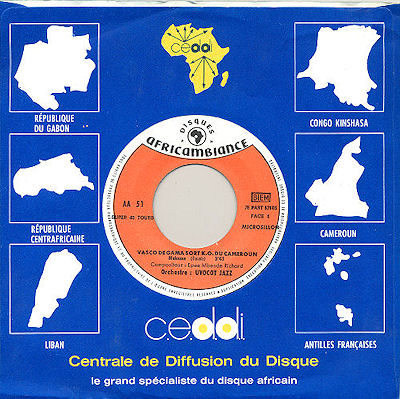 The distribution company C.E.D.D.I.  (owned by Ngoma in France ) also distributed Africambiance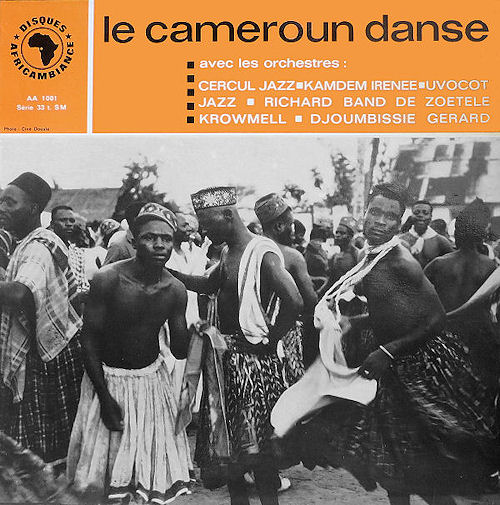 Front cover – Africambiance AA 1001 – 30 cm vinyl album P1967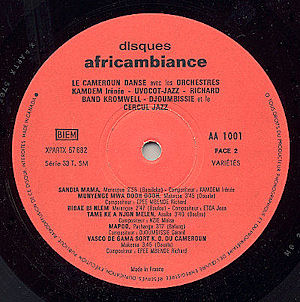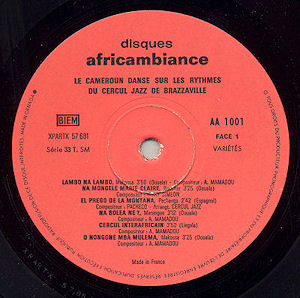 Labels – Africambiance AA 1001
Page created 07/04/2013 © Flemming Harrev – latest update 17/08/2013