Melodisc
West African releases
LABEL HISTORY
The London based Melodisc label was established in 1949 and focused initially on American jazz and folk music for the British market. When the Trinidadian Rupert Nurse became musical director in 1953, the label began to include rhythm and blues as well as recordings of West Indian and West African artists. The African artists were either based in London in between tours of Britain or came on tour to Britain in the 1950s and 1960s.
"Ambrose" Oladipupo Adekoya Campbell had already met guitarist Brewster Hughes (Ignatius Abiodun Oke) before WWII when they both joined the Jolly Boys Orchestra in Lagos. In 1946 they formed the West African Rhythm Brothers in London which eventually became the house band at the the Abalabi club in Soho. Brewster Hughes left in the mid-1950 and formed his own band Nigerian Union Rhythm Group. Another West African artist released by Melodisc was Ali Ganda from Sierra Leone who recorded with Rupert Nurse's All Star Band.
As Meldisc also recorded the Trinidadian calypso artists Lord Beginner and Lord Kitchener this in turn led to collaboration with the West African artists in the 1950s. Ali Ganda initially styled himself as the calypsonian Lord Ali and Lord Kitchener recorded with the West African Rhythm Brothers.
Other West African artists released by Melodisc included Rans Boi who had been a member of The Red Spots band in the Gold Coast before forming his own band in Britain, Nat Atkins (Obafunsho Akinbayo) from Nigeria who also formed his own band in Britain in the 1950s and played with the Edmondo Ros Orchestra. Ayinde Bakare and his Meranda Band were recorded when they toured Britain in 1957. In the 1960s Melodisc also released recordings with Fela Ransome-Kuti and his Highlife Rakers, Dorothy Masuka from South Africa and Tunde Nightingale and his Highlife Boys from Nigeria when they arrived for a tour of Britain in 1968.
Melodisc initially released on 78 rpm shellac discs which were not only sold in Britain but also distributed widely across English speaking West Africa. In the late 1950s vinyl 45 rpm discs were introduced and eventually vinyl 45 rpm EPs, 10 inch (25 cm) and 12 inch (30 cm) vinyl albums. The releases with African artists faded out in late 1960s when the label focused its activities on Jamaican music.
Re-releases
In 2002 Honest Jons Records started to release a series of compilation albums with the common title London is the Place for Me. The series was to a large extent based on the Melodisc catalogue and included African as well as Caribbean artists.
LABEL GALLERY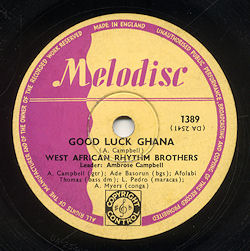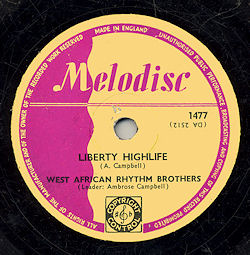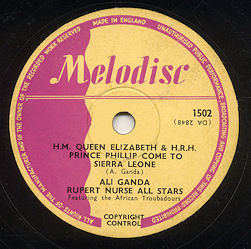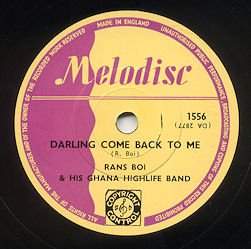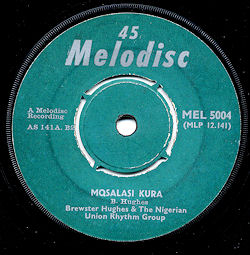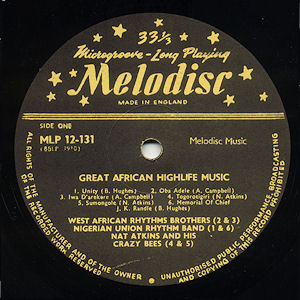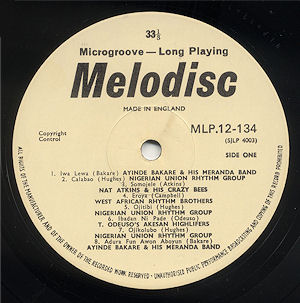 Page created 23/05/2017 @ Flemming Harrev