Sam Mangwana
Original releases

Sam Mangwana has one of the most tuneful voices in Congolese music and both Franco Luambo Makiadi and Tabu Ley (Seigneur Rochereau) have cited him as their favourite vocalist, according to Franco's biographer Graeme Ewens. Not only has he been a member of both O.K. Jazz and African Fiesta National / Afrisa International – two of Congo's and Africa's most famous bands of all times – unlike any other contemporary African artist Sam Mangwana has also toured the width and breadth of the continent and taken musical influences into his repertoire from all parts of Africa.
Sam Mangwana's professional career began in 1963 when he – at the age of 18 and member of a school band – was discovered by Tabu Ley (Seigneur Rochereau) who introduced him to Dr. Nico (Kassanda wa Mikalay) and shortly afterwards became a member of Orchestre African Fiesta. The apprenticeship lasted 6 months and ended in 1964. Later that year Sam Mangwana was in Brazzaville where he joined Los Batchichas lead by solo guitarist Dicky Barosa. During his stay in Brazzaville in 1964-1965 he also appeared with Negro Band and ended up by joining Daniel (De La Lune) Loubelo's Orchestre Tembo for eight months.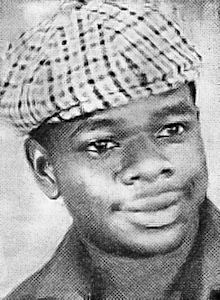 Sam Moreno c. 1966
In 1966 Sam Mangwana was back in Kinshasa where he rejoined Tabu Ley and his new band African Fiesta 66 (later renamed African Fiesta National) formed after Tabu Ley's split with Dr. Nico. In 1967 Sam Mangwana joined Jean Bombenga's Orchestre Vox Africa for six months, only to rejoin African Fiesta National later that same year as the band was preparing to go to the World Expo in Montreal, Canada.
When African Fiesta National failed to turn up on time on New Year's Eve 1967 at a cultural celebration under the patronage of President and Madame Mobuto the band was imposed a 3 months suspension from all activities. Tabu Ley and his maracas-player and business partner Rodger Iziedi felt it safer to leave Kinshasa altogether and left the musicians to fend for themselves. Backed by a local businessman Sam Mangwana and other band-members then formed Orchestre Festival de Maquisards. It was towards the end of this period 1968-1969 Sam Mangwana had his first major hit with his compositions ZELA NGAÏ NASALA. By the middle of 1969 when Orchestre Festival de Maquisards fell apart, Sam Mangwana and solo guitarist Guvano (Jean Paul Vangu) then re-formed a shot-lived version of the band. In 1970 Sam Mangwana set up his own record label Sonora which became a platform for the next step in his career. Over the next couple of years – without being a member of a band – he carried on as a recording-artist and with occasional live performances backed by an irregular group of musicians. It was also at this stage the first LP album was released in his name, a compilation based on the 45 rpm singles made with studio musicians, who – on the album cover – were also called Festival de Maquisards.
Eventually, in November 1972 Sam Mangwana was persuaded by Franco Luambo Makiadi to join a band again. Orchestre T.P. O.K. Jazz  with the soulful and mellow voice of Sam Mangwana caused a sensation. The period 1972-1975 should prove some of the most decisive years in the musical development of O.K. Jazz. Sam Mangwana's voice can be found on a string of hits that not only defined the style of Franco & T.P. O.K. Jazz in the 1970s and well into the 1980s, but have served as a benchmark for Congolese music ever since.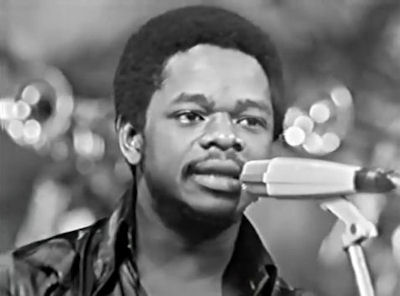 Sam Mangwana singing with T.P. O.K.  Jazz – Télé Zaïre c. 1975
For a brief period in 1973, in between his contracts with O.K. Jazz, Sam Mangwana was called upon by the former African Fiesta National vocalist "Pépé" Ndombe Opetum to join his newly formed band Orchestre Afrizam. They recorded several tracks together and a couple of tracks with Sam Mangwana as a solo artist.  It also brought him together with saxophonist Empompo Loway and "Pépé"  Ndombe Opetum in a musical cooperation they would repeat several times in the 1980s.
Following the independence of Angola in 1975 Sam Mangwana took up a song he had already recorded earlier. Sung in Portuguese, MIA ANGOLA or LIBERDADE E TERRA as it was re-named, induced the Angolan government to award him the title of national artist. Sam Mangwana was born in Kinshasa 21st February 1945 by parents who had fled from Portugals harsh colonial rule in Angola, which explains his command of Portuguese besides Lingala, Kikongo and French, in addition to Spanish, English and Kiswahili.
In 1975 Sam Mangwana also signed a contract with Tabu Lay (Seigneur Rochereau) to join him on stage for a number of shows in Kinshasa. As a sign of his newly won status his recordings with Tabu Ley was released with his name given an equal billing as that of his mentor. But eventually he quit both O.K. Jazz and Tabu Ley et l'orchestre Afrisa International. In 1976 he left Congo altogether and set out on a musical exploration of West Africa. Eventually he settled in Abidjan, Côte d'Ivoire, where he formed the outstanding group African All Stars with guitarists Dizzy Mandjeku (solo guitar) and Lokassa Ya Mbongo (rhythm guitar) as its principal musicians. African All Stars revitalized Congolese music with elements of biguine and highlife in an up-tempo style with strong emphasis on the guitars inspired by Price Nico Mbarga and the Igbo highlife bands from Nigeria, highly popular at the time, and the emerging zouk musique from the French Antilles.

1st formation of African All Stars 1978
L to R: "Dizzy" Mandjeku Lengo (solo guitar), Théo-Blaise Kounkou (vocal),
Roland Mvogo (bass), Sam Mangwana (vocal), "Ringo" Kanyama Moya
Lotula (drums) & Lokassa ya Mbongo (mi-solo guitar).
With this musical formula, Sam Mangwna et l'African All Stars enjoyed a string of hits on the ever-popular theme of male-female relationships GEORGETTE ECKINS, MATINDA, SUZANNA COULIBALY and AFFAIRE VIDEO. By switching the lyrics from Lingala to French new fans were won over across West Africa. It was also in Abidjan Sam Mangwana ventured into his first highlife record and – so far only co-production with a female artist, the Ghanaian vocalist and saxophonist Asabia Cropper.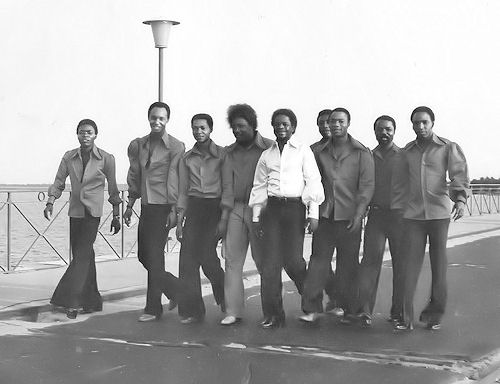 2nd formation of African All Stars 1979
L to R: Pablo Lubadika "Porthos" (bass), "Ringo" Kanyama Moya Lotula (drums), Lokassa ya
Mbongo (guitar accompaniment), "Dizzy" Mandjeku Lengo (solo guitar), Sam Mangwana
(vocal), Tidiane Diambwana (tenor sax), Bopol Mansiamina (bass), David "Fefe" Diambouana
(tenor sax) & Syran Mbenza (mi-solo guitar).
All these recording were made as original LP productions, a new format at the time, which allowed for 3-4 songs, each of duration of 10 to 15 minutes. African All Stars literally tapped into a booming recording industry that was flourishing on the new LP format. In retrospect, African All Stars became a West African test-run and spring-board for much of the music from Central Africa that was to emanate from the Parisian recording studios in the 1980s. Sam Mangwana arrived in Paris in 1979 to make his next album, in addition to two albums with re-recordings of his West African repertoire. But it should take another, less franticly organized studio session to produce his next hit album MARIA TEBBO in 1980.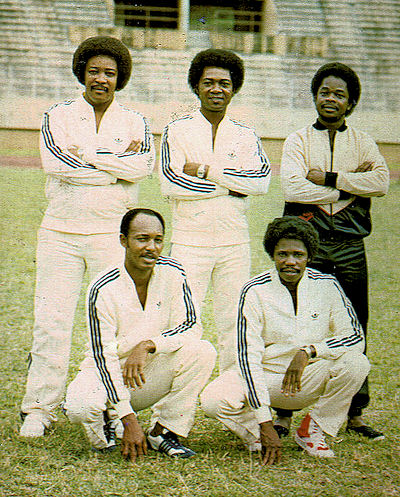 3rd formation of African All Stars 1982
L to R – Sitting: "Ringo" Kanyama Moya Lotula (drums) and
Manana Antoine (bass). Standing: "Dizzy" Mandjeku (solo guitar),
Lokassa ya Mbongo (guitar accompaniment) & Sam Mangwana (vocal).
For the next 20 years Paris served as a base for Sam Mangwana's subsequent tours of Europe, North America and across Africa in between visits to the Congo. He toured Cameroun in 1980, Côte d'Ivoire in 1982, Moçambique in 1983, Kenya, Tanzania, Malawi, Zambia, Botswana and Zimbabwe from 1984 to 1986.
When Sam Mangwana finally went back to Kinshasa in 1982 after 6 years absence it was as an established international star in his own right. Yet his return stirred up an even greater fuzz when it became known that he had made the album COOPÉRATION with "le grand maître" Franco Luambo Makiadi et l'T.P. O.K. Jazz. Not only was it voted album of the year in Congo-Kinshasa in 1982 but also awarded a Spécial Maracas d'Or, the francophone music industry's equivalent of a Grammy.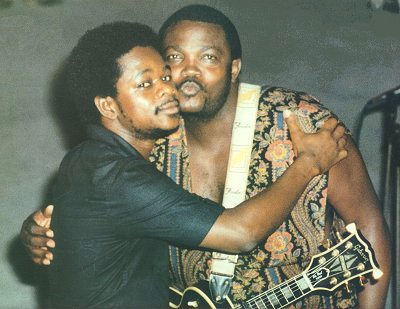 Sam Mangwana and Franco Luambo Makiadi in Kinshasa 1982
The next couple of years, however, Sam Mangwana more or less "disappeared" from the international scene in favour of yet another musical exploration, this time of East and Southern Africa. On a tour to Moçambique in 1983 he recorded CANTA MOÇAMBIQUE in Maputo with Dizzy Mandjeku and a group of local musicians, a tribute in Portuguese to the newly independent nation. Later that year he did an album in Congo with vocalist "Pépé" Ndombe Opetum and saxophonist Empompo Loway and their band Tiers-Monde. On his extended tour of East Africa in 1984 he recorded the album FURAHA YA BIBI in Nairobi with songs in Kiswahili that catered especially for the East African market. His Southern Africa experience and first attempt to sing in English was included on three albums with Empompo Loway recorded in Brazzaville in 1986.
After years of African tours it should take until 1987 for Sam Mangwana to resurface on the international scene with the hit album ALADJI, produced in Paris by Ibrahima Sylla. Here he summed up the musical inspiration gathered over the past decades with ballads as well as up-tempo songs in Kiswahili, Lingala, Portuguese and a reggae-influenced tribute to the countries in Southern Africa.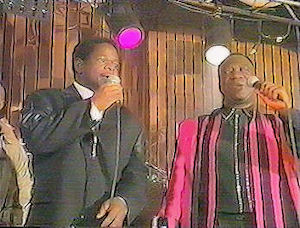 Sam Mangwana and Tabu Ley reunited on stage
In 1989 he teamed up – in what should prove a last session – with Franco Luambo Makiadi. The reunion was presented on two albums, but the old magic was absent. Franco, it seemed, was already marked by the illness that caused his death later that year. In 1990 Sam Mangwana tapped into the commercial fad for non-stop megamix albums, which followed the introduction of the CD, and reworked a string of former hits. But the real follow-up to ALADJI came in 1991 with his Cameroonian album DUTA LONGO, 6 tracks arranged by guitarist Toto Guillaume for an all-out group of Cameroonian musicians. However, the album was released in the old LP (vinyl) format and failed to have an impact on the international market. That was remedied in 1993 with RUMBA MUSIC and the musically even more rewarding album NO ME DIGAS NO from 1996 which included a song written by the Guinean guitarist Kante Manfila (of l'Ambassadeur Internationaux fame) with Sam Mangwana singing in Bambara.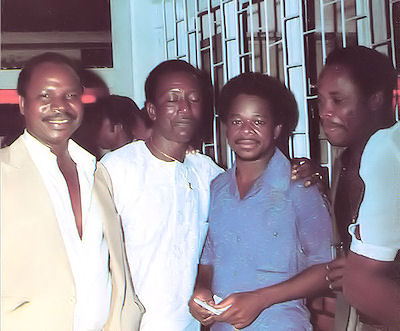 Josky Kiambukuta, Papa Noël, Sam Mangwana and Ndombe Opetum
Sam Mangwana's musical direction then took a new turn towards a distinctively more acoustic sound than before. GALO NEGRO on the Putomayo label from 1998 stands out as his probably best-produced album ever. In 2000 he teamed up with guitarist Dino Vangu, solo guitarist with Tabu Ley's Orchestre Afrisa International. The album FEMMES AFRICAINES or MANGWANA SINGS DINO VANGU is a return to his first love la rumba congolaise. The latest full album CANTOS DE ESPERANÇA from 2003 displays Sam Mangwana's partly acoustic repertoire he presented on live on tours across Europe and North America between 1999 and 2001. Two new tracks appeared on the otherwise retrospective album PÁTRIA QUERIDA from 2005. At the time of its release Sam Mangwana had gone into semi-retirement in Luanda and was given a small pension by the Angolan state. But he still turns up by special request for live performances. In March 2008 be appeared at Simaro Lutumba Massiya's 70th anniversary party at a hotel in Kinshasa alongside former O.K. Jazz vocalist Michel Boyibanda and paid tribute to his mentor Tabu Lay who was also present. In November 2010 a concert in memory of Franco Luambo Makiadi was organized in Nairobi, Kenya with Sam Mangwana singing alongside "Pépé" Ndombe Opetum and Canta Nyboma. In May 2011 he gave "un spectacle sensationnel à la clôture de la fête de la semaine africaine à l'Unesco, le 27 mai, à Paris, en France".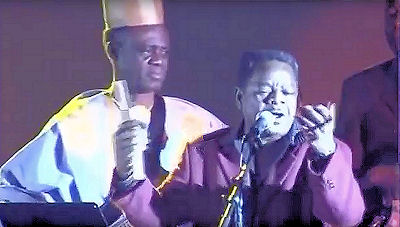 Sam Mangwana and Lutumba Simaro Live LSC Paris 2003
Over the past 25 years Sam Mangwana has also been a frequent guest artist and appeared on albums with Jean-Serge Essous (of Les Bantous), Maïka Munan, Papy Ipepy, Geo Bilongo, Papa Wemba, Simaro Lutumba Massiya et Bana OK, Bopol Mansiamina, Syran Mbenza, Wuta May, Wally Ngonda, Mose Fan Fan, Ricardo Lemvo, Alain Makaba, Awilo Longomba, Rigo Star, Josky Kiambukuta, Mayaula Mayoni, Scola Miel, Ndombe Opetum and Jossart N'yoka Longo and Zaiko Langa-Langa. In 2009 Sam Mangwana recorded 3 tracks (two in duet with Cosmos Mountouari) for the compilation album TERRE SACRÉE: ACT 2. Four more new tracks were released in 2016 for the album TERRE SACRÉE: ACT 4 – 5/7 Allez y comprendre. Also in 2016 a full album LUBAMBA with another 8 new tracks (including a re-recording of Gorgette Eckins now retitled Georgete Marcory) was released for download.

YouTube – Sam Mangwana SŒUR T from the album TERRE SACREE: ACT 2 – P2009
Reference
Graeme Ewens: Africa O-Ye! A Celebration of African Music. Enfield, Middlesex: Guiness Publishing, 1990.
Gary Stewart: Rumba on the River. A History of Popular Music in the Two Congos.  London & New York, NY: Verso, 2000.
Page created 31/05/2014 © Flemming Harrev – latest update 02/08/2019