Various labels
O.K. Jazz 1983-1995
33 tours 30 cm albums vinyles & CD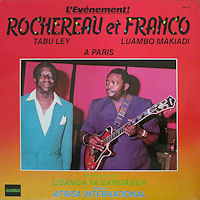 Genidia GEN 103 P1983
Rochereau et Franco À PARIS
LISANGA YA BANANGA SECTION AFRISA INTERNATIONAL
1. NGUNGI

(Rochereau)


2. OMONA WAPI

(Mekanisi Modero)

1. LISANGA YA BA NGANGA

(Rochereau)


2. KABASSELE IN MEMORIAM

(Rochereau)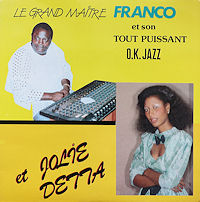 Disques Esperance ESP 8427 P1986
Le Grand Maitre Franco et Jolie Detta MASSU
1. MASSU

(Franco)


2. CHÉRIE OKAMUISI NGAI

(Mantuika)

1. LAYILE

(Franco)


2. LIKAMBO YA SOMO LUMBE

(Djodjo)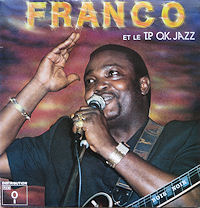 Rythmes et Musique REM 570 P1986
Franco et le T.P. O.K. Jazz BOIS NOIR
1. BOIS NOIR

(Empompo Loway)


2. CLÉMENCE

(Empompo Loway)

1. BONGA PEMA

(Kiesse Diambu)


2. MA ZAMBA

(Kiesse Diambu)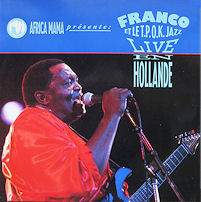 Mama Africa – Sango Records 87.01-1 P1987
Franco et le T.P. O.K. Jazz LIVE EN HOLLANDE
1. MONO MUNTU

(Franco Luambo)


2. MIGUEL

(Franco Luambo)


3. MANDOLA

(Franco Luambo)


4. TESTAMENT WA BOWULE

(Lutumba Simaro)

1. CHÉRIE OBEBISI MUSI

(Josky)


2. PAPA YEYE

(Josky)


3. BOYA NGAI

(Lutumba Simaro)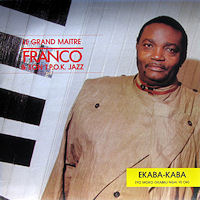 African Sun Music / Celluloid 9508 P1987
Le Grand Maitre Franco et son T.P.O.K. Jazz EKABA-KABA
1. EKABA-KABA

(Franco)

1. MOBEMBO EKOSILA TITI

(Gege Mangaya)


2. CHÉRIE A

(Gerry Dialungana)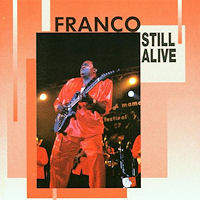 Koch International 122 411 [vinyl] / 322 411 [CD] P1990
Franco and T.P. O.K. Jazz STILL ALIVE
01. LIKAMBO (Franco Luambo)
02. BOLINGO YA NGAÏ NA TATA (Josky Kiambukuta)
03. PESA NGAÏ POSITION NA YO (Franco Luambo)
04. TRES FACHE (Franco Luambo)
05. MARIO (Franco Luambo)
06. MONO MUNTU NLEKI AMO TA NDILA (Franco Luambo)
07. ETUMBA (Franco Luambo)
08. MAWE (Ndombe Opetum)
09. TOKOMA BA CAMARADES PAMBA (Franco Luambo)
Live recording Africa Mama festival in Utrecht, Netherlands 22 May 1987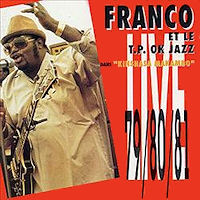 Sonodisc CDS 6951 P1994
Franco et le T.P. OK Jazz LIVE 79-80-81 – KINSHASA MAKAMBO
01. KINSHASA MAKAMBO (Franco)
02. CLÉMENCE (Empompo Loway)
03. EFONGE (Lutumba Simaro)
04. BOKOLO BANA YA MBANDA 1 (Franco)
05. BOKOLO BANA YA MBANDA 2 (Franco)
06. NGANDA TOSALAKE FETE (Lutumba Simaro)
07. DIALOGUE :  Lukunku Sampu / Franco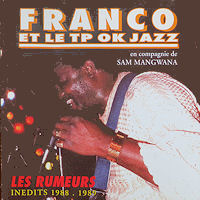 Sonodisc CD 6981 P1994
Franco et le T.P. O.K. Jazz en companie de Sam Mangwana
LES RUMEURS INEDITS 1988-1989
01. LES RUMEURS (BAISER YA  JUDA) (Franco)
02. LAISSEZ-NOUS TRANQUILLES (Franco)
03. BATELA MAKILA NA NGAI (Franco)
04. FABRICE AKENDE SANGO (Franco)
05. MBANDA AKANA NGAI (Franco)
NB. Track 03 identical to A:2. "Sadou" on Choc CHOC 010.
       Track 05 identical to B:2. "Mon rival cherche a m'avoir" on Choc CHOC 010.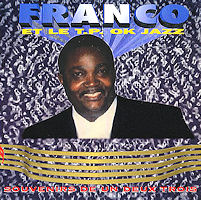 African / Sonodisc CD 36551 P1995
Franco et le T.P. O.K. Jazz SOUVENIRS DE UN DEUX TROIS
01 BA PENSÉES (Kiambukuta Josky)
02 BA BEAUX FRÈRES (Franco)
03 MACE (Lutumba Simaro)
04 BANDEKO NA NGAI YA MIBALI (Franco)
05 MOLEKA (Mayi Wutatumba)
06 ON NE VIT QU'UNE SEULE FOIS (Lutumba Simaro)
07 BESENGAMBI (Kiambukuta Josky)
08 MOMI (Mayoni Mayaula)
NB. Live recordings from the 1970s
Page created 12/11/2012 © Flemming Harrev – latest update 04/10/2016