Philips
LABEL HISTORY
In the 1950s the Philips record company introduced a number of 78 rpm shellac series for the African market. The P 79 000 series with artists from the French speaking countries in West Africa and Cameroon and the P 85 000 series with Congolese artists were distributed though Philips' branch in France. The P 82 000 and P 103 000 series with Nigerian artists was distributed through its West African branch in Lagos, Nigeria. Philips, unlike other record companies, was part of a larger corporation that manufactured a wide range of electrical appliances and had concession deals with trading companies throughout Africa.
By 1960 the Philips record company began releasing 45 rpm vinyl EP discs in the 420 000 series and 25 cm 33 rpm vinyl albums in the P 13 400 series with artists from Nigeria and Ghana. Artists from the French speaking countries in Africa including Madagascar were released on 45 rpm EP discs in the 424 600 and 424 800 series. Philips 424 650 to 424 689 were co-released through the Ivoirian label Safie Deen – see front cover scans LINK. The recordings released by Philips in Nigeria were also distributed out of Paris for the francophone market in Africa.
Philips established a local branch in Accra, Ghana in 1969 and entered into a joint venture with Dick Essilfie-Bondzie of Essiebons Records to set up the pressing-plant Record Manufacturers (Ghana) Ltd. [R.M.G.L.] for the production of vinyl discs. 45 rpm singles were released on the Philips label in the 335 000, 382 000 and 383 000 series. 30 cm 33 rpm albums were initially released in the P 16800 series only to be replaced by the 6354 000, 6361 000 and 6386 000 series. In 1972, the Philips, Fontana, Mercury and Vertigo labels were amalgamated into a new company to be called Phonogram Records. The Philips label, nonetheless, was continued in West Africa into the late-1970s before it was replaced by the Polydor label. By this time the 30 cm 33 rpm vinyl album had become the standard format for new releases and except for a short lived PLP series for 25 cm albums released in 1969 all Polydor albums were released in the POLP series.
GALLERY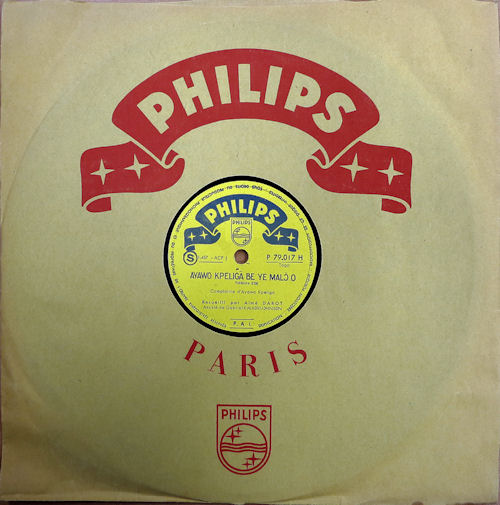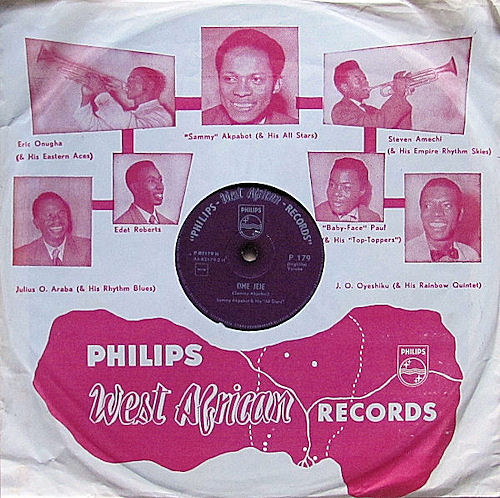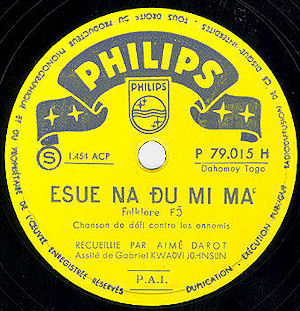 Philips P 79000 series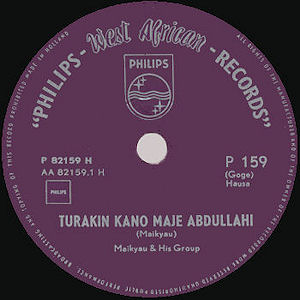 Philips P 82000 series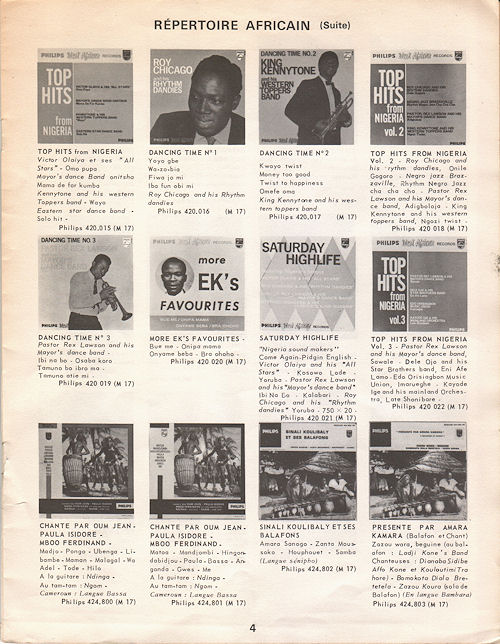 Philips (France)'s African catalogue 1965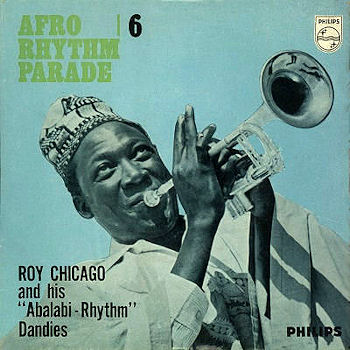 Philips 420 013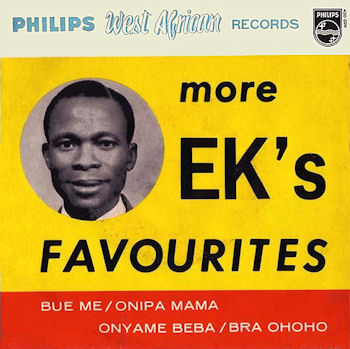 Philips 420 020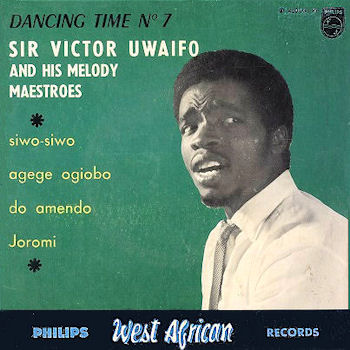 Philips 420 033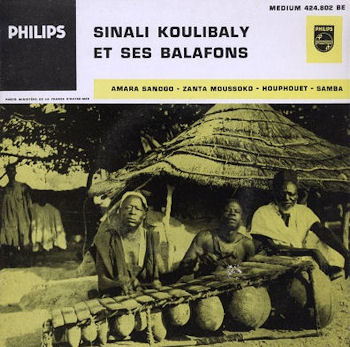 Philips 424 802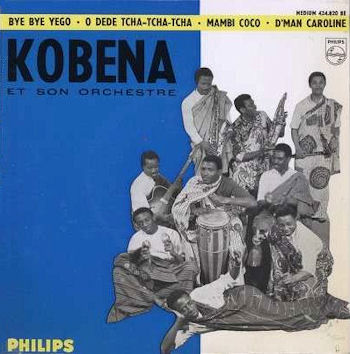 Philips 424 820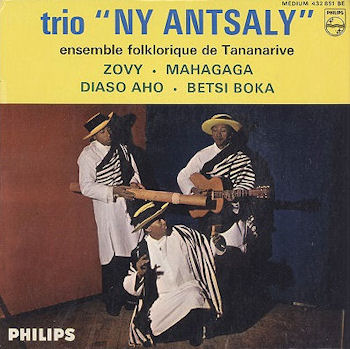 Philips 432.851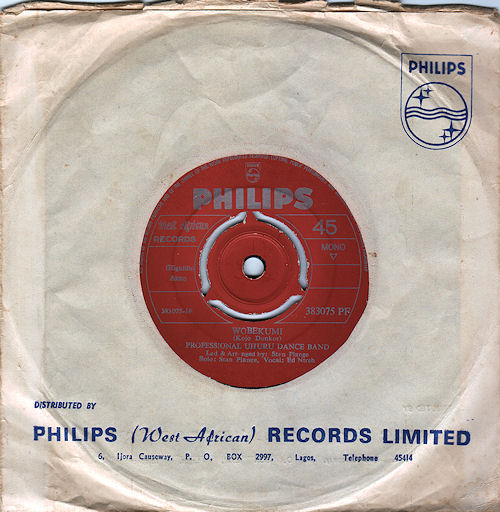 1960s Nigerian sleeve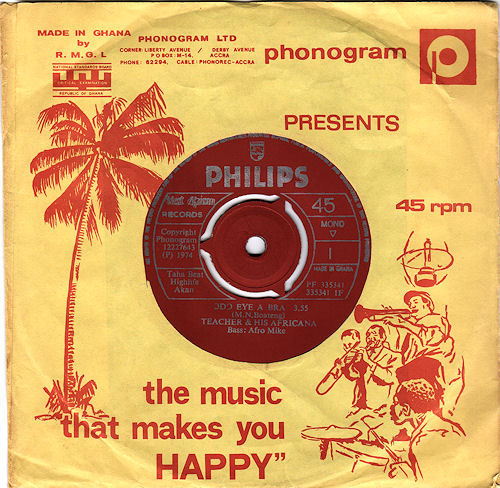 1970s Ghanaian sleeve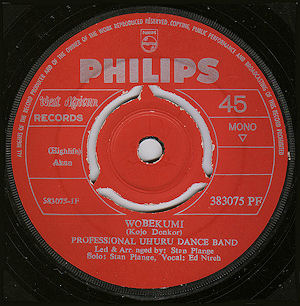 45 rpm single label
33 rpm album label – 1974 Nigerian pressing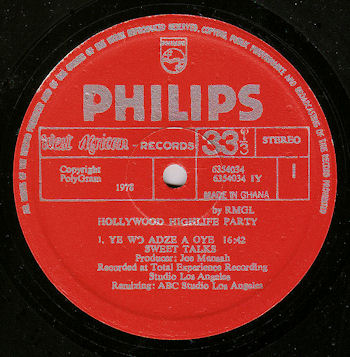 33 rpm album label – 1978 Ghanaian pressing
Page created 28/04/2015 © Flemming Harrev – latest update 10/05/2015