Pathé-Marconi EMI series – History
In the 1960s and 1970s Pathé-Marconi EMI in France re-released a great number of discs with African music on vinyl EPs (super 45 tours), singles (45 tours) and 30 cm LP albums. Initially they were re-releases in the existing series for French and international popular music.
Previously, the Pathé label had released 78 rpm shellac discs with African traditional music, including recordings from the 1946 "Ogooué-Congo" mission, in the PA 2500 to PA 2800 series.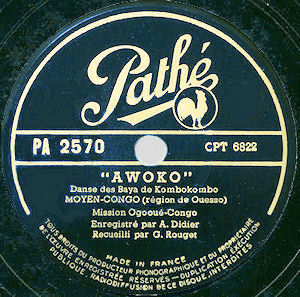 La Voix de Son Maître
Pathé-Marconi EMI initiated its African re-releases on vinyl in 1960 on the La Voix de Son Maître label in the EMF "Présence mondiale" series for 45 rpm EPs (super 45 tours) with recordings by O.K. Jazz made for the Loningisa label in the Belgian Congo. The EMF series was continued briefly by the EGF series in 1963 which also included re-releases from the EMF series.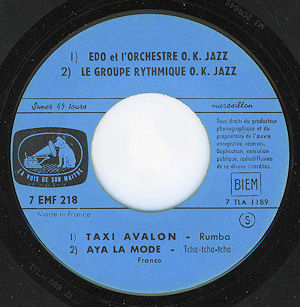 La Voix de Son Maître 7 EMF 218 – Loningisa re-release
Pathé
By 1964 releases of Congolese music on 45 rpm EPs (super 45 tours) continued on the Pathé label in the EG series with recordings licensed from O.K. Jazz and the Stenco label in Congo Brazzaville.
Columbia – Odeon – Ducretet-Thomson
Recordings made by the Congolese label Esengo were re-released on 45 rpm EPs (super 45 tours) on the Columbia label in the ESDF series 1960-1962, and in the ESRF series 1963-1966  which also included some re-releases from the ESDF series. A couple of African releases also appeared on the Odeon and Ducretet-Thomson labels.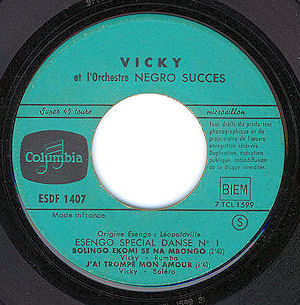 Columbia ESDF 1407 – Esengo re-release
Singles and albums
Vinyl singles (45 tours) with Congolese music first appeared in the Columbia SCRF series and the Pathé G 2000 and 2100 series in 1965. The Pathé G series singles were re-released again in 1967 when the Pathé label initiated the PF 11.500 series exclusively for vinyl singles with African music. The Pathé PF 11.500 series ran until 1969. In the 1960s Pathé-Marconi EMI's African catalogue also included artists from Senegal, Cap Verde, Bénin, Nigeria, Cameroon and Angola, but the majority of releases remained artists from both sides of the Congo river. But unlike its main competitor on the market for Congolese music, the Belgian owned Fonior / Decca France / Ecodis, Pathé Marconi EMI gave priority to artists from Congo-Brazzaville.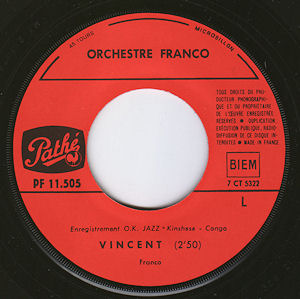 Pathé PF 11.505 – O.K. Jazz licenced release
New international cataloguing system 1969-1984
Until 1969 Pathé / Pathé Marconi EMI had used its own unique catalogue numbers. In 1969 the EMI group introduced a new international cataloguing system which was made up by a country code (e.g. "2C" for discs manufactured France) followed by 3 + 5 digits where the group of 3 digits is a code and the group of 5 digits makes up the serial number proper.
The first digit in the group of 3 (e.g. "006") indicate the format where "0" stands for a 30 cm vinyl LP or a 17 cm (7 inch) vinyl single, and where "1"  stands for a double vinyl LP or a 30 cm (12 inch) maxi single. The last two digits in the group of 3 indicate the type of package: single, album, EP, etc. EMI's international cataloguing system was in use until 1984 when it was replaced by a system based on bar codes and EAN numbers.
Pathé Marconi EMI used several codes for its releases with African music. The code 010 would appear to be assigned for 17 cm (7 inch) vinyl singles in stereo. The codes 054, 058, 062 and 064 were used for vinyl albums and 150 for double albums.
15.000 series
The new cataloguing system also saw the introduction of a new 15.000 series in 1969 for releases with African music. The 5 digit serial number was used for 17 cm (7 inch) vinyl singles as well as 30 cm (12 inch) vinyl albums.
After the first 250 releases (ending with 15.249) releases with African music was continued from 15.700 (ending with 15.824) and picked up again from 15.950 (ending with 15.998 in 1978). The intervening serial numbers were not used.
However, the introduction of the international cataloguing system also saw releases of African music in various "varieté internationales" series e.g. 80.000 (King Sunny Ade and Fela Ransome-Kuti), 81.000 (Congolese artists), 82.000 (Kenyan and Nigerian re-releases including Sunny Okusun and Prince Nico Mbarga), 92.000 and 96.000 (Kenyan and South African re-releases).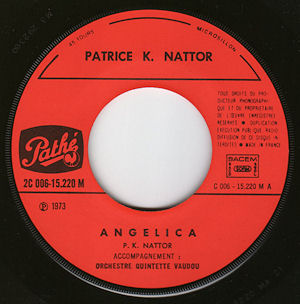 Pathé 2C 006-15.220
By 1979 Pathé Marconi EMI decided to terminate its releases for the African record market caused by declining sales figures. No new singles or albums were produced. It should take into the mid-1980s before Pathé Marconi EMI again released albums with African music (mostly re-releases) including Fela Kuti, Alpha Blondy and Johnny Clegg, but now aimed at the growing market in Europe for African music.
Page created 06/12/2014 © Flemming Harrev –  latest update 28/05/2016