Radio Africa
Editor: Graeme Council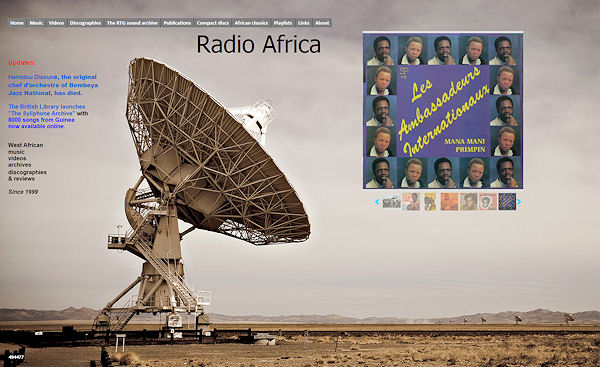 http://www.radioafrica.com.au/
National discographies for Burkina Faso, The Gambia, Guinea, Guiné-Bissau, Mali and Mauritania. Discographies of West African labels, artists and bands.
∗ Lists of Malian amd Guinean bands. Rail Band and Les Ambassadeurs family tree.
∗ Articles on the RTG (Radio Télévision Guinée) archive and the Endangered Archives Programme.
∗ The Syliphone archive catalogue for download. Link to online listening at the  British Library Sounds' website.
∗ List of publications and Stern's re-releases of Syliphone recordings.
NATIONAL DISCOGRAPHIES
Burkina Faso
The Gambia
Guinea
Guiné-Bissau
Mali
Mauritania
LABELS
Club Voltaïque du Disque
Djima Records
L.G.V.D.
Mali Kunkan
Music Hall
N'Dardisc
Safie Deen
Société Ivoirienne du Disque
Syliphone
Tempo International
Volta Discobel
ARTISTS
Mali
Les Ambassadeurs
Rail Band
Salif Keita
Guinea
Bembeya Jazz
Keletigui et ses Tambourinis
Page created 24/11/2012 © Flemming Harrev – latest update 23/07/2016