Zonophone
LABEL HISTORY
The British Zonophone label (since 1903 owned by The Gramophone Company / His Master's Voice) was the first major European label to launch a comprehensive African catalogue.
Zonophone introduced its general 4000 series for the South African market in 1912. The series also included discs in African languages. It started with reissued "Gramophone" recordings made by a group of Swazi chiefs on a visit to London in 1907. However, in March-April 1912 Zonophone sent an engineer to South Africa who made recordings of the Salvation Army and St. Cyprian's Choir in Johannesburg, Abonwabisi Party (Don't Worry Entertainers), George Goch Mine Natives, H. Selby-Msimang, J. B. Masole,  P. Mbonambi and J. Vilakazi. The African recordings were advertised as "Zonophone Native Records" (see illustration below). Additional African recordings were made with Sol T. Plaatje on a vist to London in 1923 and with James Stuart, Simon Sibiya and John M. Ngwane from 1927 to 1930.
Caluza's Double Quartet
A memorable London recording session took place in September-October 1930 when Ruben T. Caluza's Double Quartet arrived from South Africa and recorded 150 songs. The first 52 releases from this session appeared as Zonophone 4276-4285, 4298-4319, 4332-4341 & 4350-4359. However, after the merger of the parent Gramophone Company / His Master's Voice into EMI in 1931 and the subsequent rearrangement of the African market, Zonophone's African catalogue was stopped and deemed obsolete. The only exception was the recordings with Caluza's Double Quartet which were re-released on His Master's Voice in the G.U. series as G.U. 1-52 in addition to the remaining songs from the London session which were released as G.U. 53-75.
Re-releases
20 songs from Caluza's Double Quartet's 1930 London session were re-released by the Heritage label (HTCD 19) in 1992.
References
John H. Cowley: "uBungca (Oxford Bags). Recordings in London of African and West Indian Music in the 1920s and 1930s", Musical Traditions (Rochford, Essex), No. 12, Summer 1994, pp. 13-26.
"An African Star": Ruben T. Caluza and Early Popular Music in South Africa. Chapter 5 in: Veit Erlmann: "African Stars. Studies in South African Performance". Chicago, Ill.: Chicago University Press, 1991, pp. 112-155.
GALLERY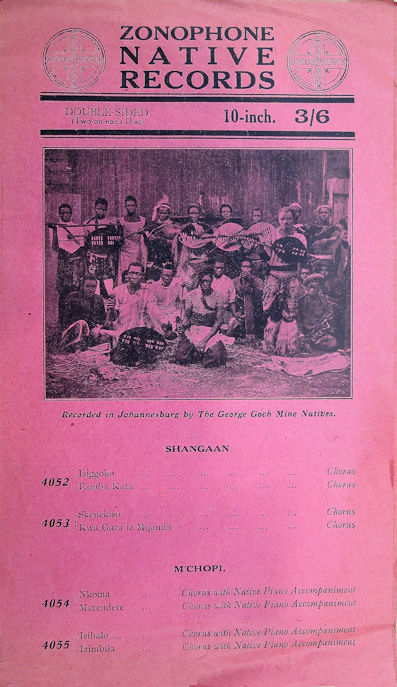 Zonophone's 1912 South African recordings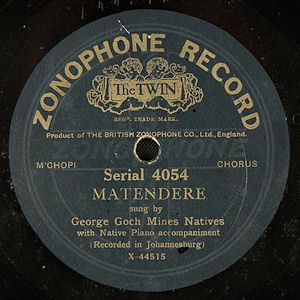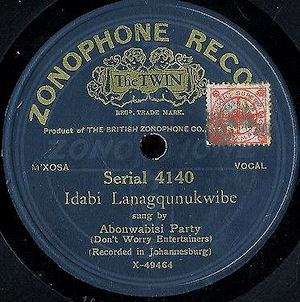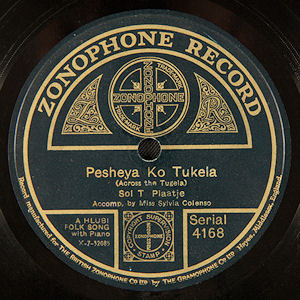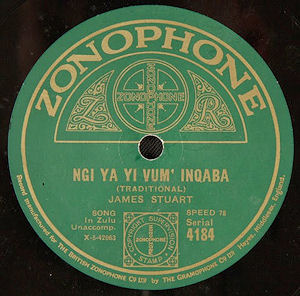 Labels from Flat International  – South African Audio Archive
LINK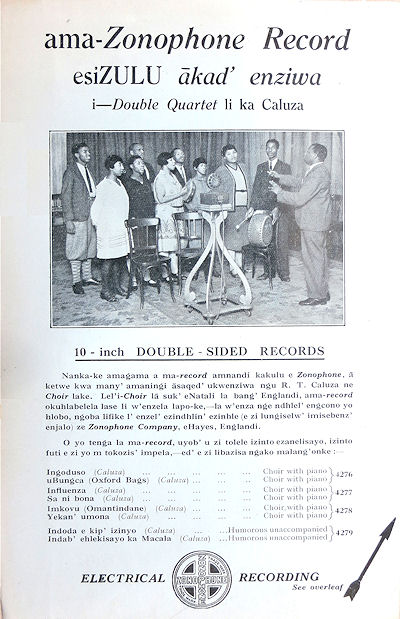 Caluza's Double Quartet's 1930 London recordings
Page created 05/03/2015 © Flemming Harrev