Ngoma – on vinyl
45 tours (singles) – super 45 tours (EP's) & 33 tours (albums)
Manufactured in France 1960-1971
Label history
Ngoma was the leading Congolese record label throughout the 1950s with a catalogue of more than 2,160 78 rpm shellac discs. The label was founded in Léopoldville (today Kinshasa) in 1948 by the Greek businessman Nico Jéronimidis assisted by his brother in law Nikis Cavvadias and his younger brother Alexandros Jéronimidis who took care of the commercial side. After the early death of Nico Jéronimidis in 1951 Nikis Cavvadias took over as A & R man, recording engineer and musical adviser.
The early recordings were made on acetate discs which were send to Belgium for manufacture. Eventually they switched to reel to reel tapes and established a proper recording studio in Léopoldville. A network of wholesale dealers was established throughout the Belgian Congo, in Cameroun and in Brazzaville  for the A.O.F. (French Central Africa). In order to expand business and avoid import tax in France's African colonies the manufacture of discs was transferred from Belgium to France where they acquired a pressing plant in Paris.

The Ngoma catalogue featured many of the most popular artists of what today is widely referred to as the first generation of musicians, like Wendo Kolosoy, Henri Bowane, Camille Mokoko, Manuel d'Oliveira, Léon Bukasa, Adou Elenga, Paul Mwanga and Camille Feruzi. Early Ngoma recordings typically featured the vocal and the acoustic guitar of a solo artists like Wendo Kolosoy on his early recordings. Eventually additional vocals, guitars, bass, clips and wind instruments were added to the recordings. The employment of additional musicians lead to the formation of permanent studio based orchestras like Beguen Band and Vedette Jazz.
However, the deteriorating political and economical crisis in Congo in the early 1960s forced Nikis Cavvadias to suspend operations, close the studio and leave for France. Together with Alexandros Jéronimidis who had left Congo in 1959 he continued the Ngoma label with various series released on 45 rpm and 33 rpm vinyl discs which – by the early 1960s – had become the principal format for new releases. By the mid-1960s Ngoma established a distribution company, CEDDI, which also handled a number of other labels including the first releases on the Guinean Syliphone label.
45 rpm vinyl series
Initially Ngoma relied on its own Léopoldville studio recordings from the early 1960s, but the label soon ran short of new material of its own and instead converted to re-release records previously released in Congo. The Ngoma vinyl series reflects this change in business strategy.
Série des nouveautés – a series of 45 rpm EP's (super 45 tours) with a progressive numerical order starting with N° 1. Carton cover colour print, some with centerfold.
Succès africains – a series of 45 rpm singles (45 tours) with the prefix J DN starting with J DN 1. Standard paper cover in blue, red or green with b/w photos.
Série des grands succès – a series of 45 rpm EP's (super 45 tours) with a progressive numerical order starting with N° 1000. From N° 1055 onwards the series was based on licenced material from Congo and the format changed to a series of singles (45 tours) which were given a J prefix and renamed Série luxe (J 1055 to J 1061). From 1062 to 1066 the prefix was changed once again to DNJ. Carton or paper cover with colour print.
The Série luxe was continues in the J 5100 series for 45 rpm singles (45 tours). After J 5163 the series was continued with the DNJ prefix (DNJ 5164 to DNJ 5354).
Ngoma  also re-released 32 singles (45 tours) from the Congolese Negro Festival label with the NF prefix in the 3500 series (Negro Festival NF 3501 to NF 3532).
33 rpm albums
From 1967 to 1971 19 LP albums (33 tours  30 cm) were released on the Ngoma label. 15 with the J prefix  (Ngoma J 33 001 to J 33 015) and 4 with the NF prefix (Ngoma NF 13 001 to NF 13 004). J 33 005 also carried the alternative number Flash FL 33 005. The generic album title Tout l'Afrique Danse (vol. 1 to vol. 11) included albums from the J 30 000 as well as the NF 13 000 series.
The end of Ngoma
Ngoma eventually ceased its operations in France in 1971. Some of the Congolese singles licensed by Ngoma were re-released again on Fonior / Decca France's African label in the 90.000 series. A couple of the Ngoma LP albums were re-released by SonoDisc in the 1970s in the Sonafric SAF 50.000 series.
Compilation CDs
Very few of Ngoma's original shellac and vinyl releases have been re-released at a later date. Günter Gretz's Pan African Music label sought to correct this with the assistance of Wolfgang Bender in the 1990s when they released two compilation CDs Ngoma – The Early Years, 1948-1960 (PAMAP 101) P1996 and Ngoma – Souvenir ya l'indépendence (PAMAP 102) P1997.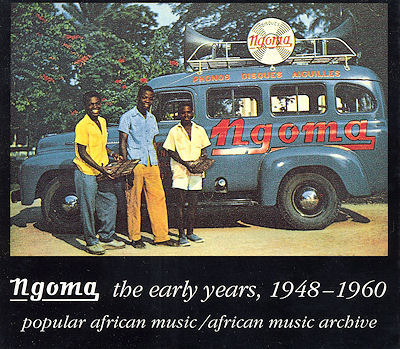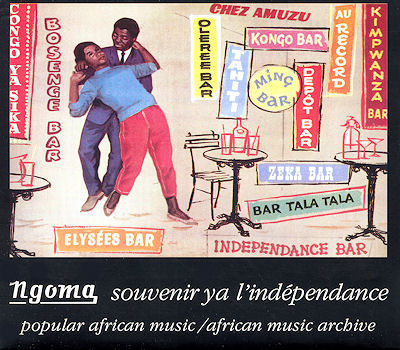 Page created 03/02/2013© Flemming Harrev